Ruleset: Rated Wi-Fi Singles (~1550 rating)
Background Information:
I'm relatively bad at competitive battling. I entered tournaments and such when I was younger but I never did too well. I love battling anyway though. Here's a battle that had me shaking. Keep in mind that I'm pretty bad/rusty and often make very bad decisions. This is one of my first few competitive battles since Gen 6 came out (I last did a competitive battle in Gen 4.)
You can watch it with this code in the Vs. Recorder: KPVG-WWWW-WWW2-GNJN (As of 11/4/2013)
Teams:
Mine:



Opponent's: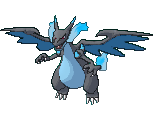 Turn 1:
Go Tyranitar!
Go Pangoro!
Pangoro breaks the mold!
Tyranitar's Sand Stream whipped up a sandstorm!
Come back Tyranitar!
Go Garchomp!
Pangoro used Hammer Arm! (Garchomp at 91/184 HP)
Pangoro is buffeted by the sandstorm!
My Tyranitar is scared to death of any physical user of Fighting type attacks. He's more like a pile of sand instead of a mountain in that case. Pulling him back was the only sensible option.
Turn 2:
Garchomp Mega Evolved into Mega Garchomp!
Garchomp used Earthquake! (Pangoro at ~5% HP remaining)
Pangoro used Hammer Arm! (Garchomp at 10/184 HP)
Pangoro's Speed fell!
Pangoro is buffeted by the sandstorm!
Pangoro fainted!
Go Heliolisk!
Score: 3-2
Sand Force Mega Garchomp had enough sheer power to nearly OHKO 95/78 base Defense off of STAB alone. If I was running Adamant instead of Jolly I would have outrun Pangoro anyway and may have killed him without the help of the sandstorm.
Turn 3:
Heliolisk used Hidden Power! (Garchomp KO'd)
Garchomp fainted!
Go Espeon!
Heliolisk was buffeted by the sandstorm!
Score: 2-2
I thought it best to use Garchomp to buy a turn here rather than switch Espeon in and potentially get killed before setting up both screens. I still don't know exactly what type of Hidden Power it was - it was likely Ice. Losing Garchomp this early in the game was bad news for me because Garchomp is my biggest damage dealer by a very large margin.
Turn 4:
Espeon used Light Screen!
Heliolisk used Thunderbolt! (Espeon at 134/172)
Espeon is buffeted by the sandstorm! (Espeon at 124/172)
Heliolisk is buffeted by the sandstorm!
I didn't know how big of a threat Heliolisk was but I did know that Heliolisk was a Special Attacker at least. It made logical sense to put up Light Screen first. I had fought one Heliolisk before but I still needed to fight more to really understand what people were doing with it.
Turn 5:
Espeon used Reflect!
Heliolisk used Thunderbolt! (Espeon at 85/172)
Espeon was paralyzed! It may be unable to move!
The sandstorm subsided.
In a moment of greed, I nearly immediately switched back to Tyranitar, only thinking of landing a killer Earthquake to remove Heliolisk. However, Heliolisk was simply continuing to tickle Espeon with minor damage. It's not wise to give up an opportunity to set up Reflect if you don't know what the opponent's last Pokemon is.
Turn 6:
Come back Espeon!
Go Tyranitar!
Tyranitar's Sand Stream whipped up a sandstorm!
Heliolisk used Focus Blast! (Tyranitar at 163/207)
Heliolisk is buffeted by the sandstorm!
The other player smartly anticipated my switch, but probably didn't expect Tyranitar to just eat that Focus Blast without even breaking a sweat. That said, I didn't expect it either. I'm used to Focus Blast OHKOing or 2HKOing Tyranitar most of the time. 5HKOing your opponent with a 4x super effective move? Tyranitar truly was an immovable object when it came to special attackers.
Turn 7:
Heliolisk used Thunder Wave!
Tyranitar is paralyzed! It can't move!
Heliolisk is buffeted by the sandstorm!
My opponent realized that Focus Blast was going to continue to hit for some tiny, paltry amount of damage. He went for the Thunder Wave in hopes of wearing down Tyranitar in the long run. I immediately can't move and begin to feel that wave of hopelessness one gets when it seems that the gods have deigned that you do not deserve a victory.
Turn 8:
Heliolisk used Focus Blast! (Tyranitar at 119/207)
Tyranitar used Earthquake!
Heliolisk fainted!
Go Charizard!
Score: 2-1
I managed to clear out Heliolisk without too much more trouble.
Turn 9:
Charizard evolved into Mega Charizard X!
Charizard used Dragon Dance!
Tyranitar used Stone Edge!
The opposing Charizard avoided the attack!
Charizard is buffeted by the sandstorm!
Stone Edge, true to the name people use here, had proven to be Stone Miss. Was Tyranitar going to get dropped next turn? Paralyzed? Stone Miss? I was in a panic after that first miss.
Turn 10:
Charizard used Outrage! (Tyranitar at 11/207)
Tyranitar used Stone Edge!
Charizard fainted!
Reflect saves the day! Tyranitar held on by the skin of his teeth and managed to hit through both paralysis and Stone Edge's mediocre accuracy, winning me the game.
Score: 2-0
End Game - Final Score: 2-0, my win.
What to take away:
Tyranitar:
Wow. That was some serious tenacity. Tyranitar barely hung on and it was only thanks to the dual screens support and Assault Vest that he managed to live long enough to end the game. This battle really showcases the power of Assault Vest and has convinced me that I should continue to use it and try it on new Pokemon too.
Garchomp:
I feel like I played Garchomp wrong, but thanks to Megachomp's extra bulk he survived Pangoro's second Hammer Arm and managed to KO the biggest threat to Tyranitar on the team. I should plan better than simply thinking, "Oh, if I run Tyranitar I should clearly run Garchomp to abuse Megachomp's Sand Force." I really lost out on defensive typing here.
Espeon:
Oh blessed dual screens - how I now love you. This was my first game using support Espeon and I'm glad I did. Even though all Espeon did was set up screens - it won me the game by almost nothing. I will certainly use Espeon in the future. I'd much prefer to run Espeon in a 6v6 environment though.
Personal Feelings:
(Feel free to skip this, it's a bit of a ramble.)
I feel like I had a statistically superior team and that if I had chosen better defensive typing and coverage moves I probably would have done better. This wasn't bad for my first night of rating battles though (especially considering the last time I battled online was in Gen 4.) I need to acclimate to a competitive environment and get used to the way people make decisions. Time and experience should make this better though.
What did I do wrong? I may have been able to KO Megazard with Earthquake, but on that first turn it was still Flying type and I couldn't be sure if it was going to become Megazard Y (which I expected because Heliolisk can have Solar Power.) And even after it became Megazard X I doubted that Earthquake could kill it considering it lacked STAB from Tyranitar. However, EQ was the safer choice over Stone miss. I was also lucky that Garchomp got 3HKO'd by Pangoro. If he was lost one hit sooner I probably would have lost the game. I think this says to me that I ought to restructure my team.
In the end, I really found myself to love Espeon so much more. That Light Screen and Reflect enabled Tyranitar to survive by the skin of his teeth and win me the game.
Oh, and by the way - please tell me if this is poorly formatted or hard to read since this is my first Warstory. I'd really like to make this an enjoyable read for you guys.
Last edited: